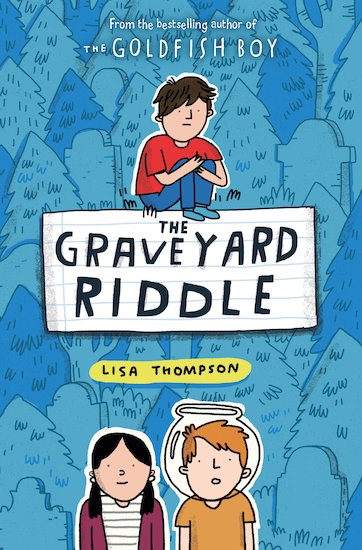 Ever since reading
Lisa Thompson's first book 'The Goldfish Boy'
I've been a fan of her ability to draw humour, mystery and real life together into something that children absolutely can't wait to get their hands on. In fact, in our house, she is one of only a few authors who the majority of us have read: Lisa is up there with JK Rowling in terms of how many of us have read her books!
'The Graveyard Riddle' picks up where 'The Goldfish Boy' left off, this time focusing a little more on Melody Bird as the main character. Again, Lisa deftly includes details of life's difficulties as the backdrop to the story: Matthew is still going to therapy for OCD, Melody's parents are splitting up due to a secret her dad has been keeping from them and the house has to be sold, meaning that Melody has to leave her home. Jake is being bullied by their neighbour and teacher and he is struggling with his behaviour at school - elsewhere in the book quite serious mental health issues are tackled too, as well as neglect of children.
Although this all seems quite heavy, you'll know if you've read her previous books, that the author treats each issue carefully, sensitively, and in a way that children can relate to. In fact, if children have experienced similar things I think they would be comforted by seeing themselves in a book, and children who haven't experienced these things will have the chance to develop empathy for others who have.
But 'The Graveyard Riddle' isn't at all just a vehicle to tackle the above. Over and above that it is just a cracking mystery story, and one which really gets the reader guessing and then second-guessing themselves.
Melody meets Hal hiding out in an old plague house in a part of the graveyard that she's never visited before. Hal brings Melody into his mission: to apprehend the dangerous criminal, Martin Stone, and together they solve riddles and stake out the graveyard, spying on him as he visits. However, when Melody has to let Matthew and Jake in on what's going on, doubts are raised: is Hal really who he says he is? What is he really doing in the plague house?
'The Graveyard Riddle' is a great read for children and adults alike: Lisa is skilled at writing that dual-layer narrative that Disney does so well, ensuring that there is plenty to appeal to all. In fact, one great angle to this story is the interplay between adults and children: something which isn't always present when children are the protagonists.
Full of heart and warmth, this middle grade mystery is an easy and compelling read, perfect for children in Key Stage 2 and certainly not at all unsuitable for Key Stage 3 children either. And if you're a parent looking for a good read aloud, or a teacher wanting to stay in touch with children's literature, then 'The Graveyard Riddle' is the perfect title for you.