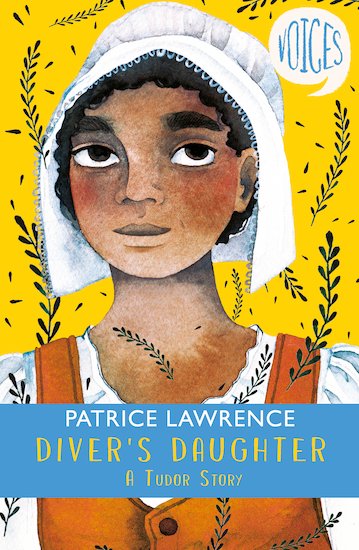 I've previously reviewed two other books from Scholastic's Voices series (
here
and
here
) and, after reading the first, I did not intend to stop there. 'Diver's Daughter' by Patrice Lawrence was next on the list.
Not exactly based on a true story, but involving one very real and pivotal character, this book is rooted in the true, often untold history of Black people in Tudor England. Having read the section in David Olusoga's Black and British that dealt with the Tudor period I had recently become more aware of the fact that there were hundreds of people from Africa or of African descent living in Britain in the 16th Century.
Eve is a Black Londoner, living, at the beginning of the story, a poor life in Southwark with her mother, a Mozambican by birth. Moving around, getting work where they can, they dream of a better life. Eve's mama is a diver and, faced with a chance to earn some real money in Portsmouth where the Mary Rose has sunk, they make a perilous journey in order to attempt to make their fortune, or at least in search of a better living. Along the way they are beset by illness, untrustworthy companions and ultimately, by their poor circumstances.
Upon arrival, things seem to look up for while, but not for long. The pair struggle to find work, and even the famous African diver Jacques Francis (historically significant not only as being lead salvage diver on the sunken Mary Rose, but also as the first Black person recorded to have given evidence in an English court) doesn't want to help them. They suffer the rejection of the townsfolk, betrayal by supposed friends before the racist viewpoints of the time lead to the kidnap of Eve's mama.
As well as being a thrilling, albeit sad, adventure, the book also evokes many other details of a time gone by - descriptions of living conditions, architecture and every day life as well as explanations of royal lineage and the tussle between religion and politics all ensure that young readers might even learn a thing or two as they read.
Providing, as I believe is the purpose of this range of stories, a way into Black British history for Key Stage 2-aged readers, this book is a great starting point for more learning around the ethnic diversity of Britain in Tudor times. Expertly written and exceedingly evocative, Patrice Lawrence's compelling narrative reveals, in a palatable way, the harsh realities of living in historical England as someone who is part of an ethnic minority group. A must for bookshelves at home, at school and in libraries.