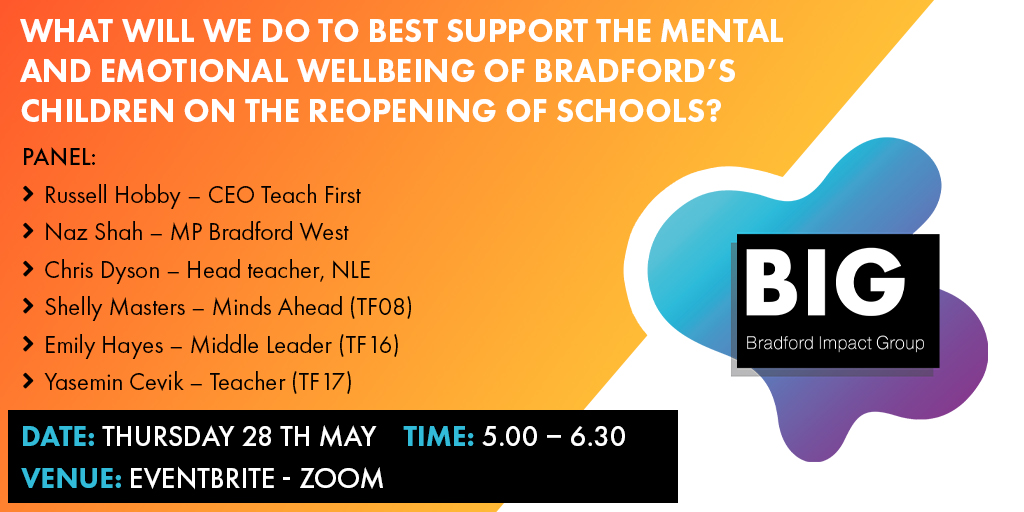 My colleague Yasemin Cevik asked me to join this Teachmeet but unfortunately I had to decline her offer. Instead I wrote a quick answer to the question that is up for debate. I tried to take one particular angle, expecting that other speakers would pick up on other aspects of the answer to this question. It's about Bradford but it goes for all children:
"What will we do to best support the mental and emotional wellbeing of Bradford's children on the reopening of schools?"
I think the key word here is 'best' as it acknowledges that there is no perfect way to do this – we can only do our best. As teachers we often strive for perfection – it's because we care so much – but perfection is unattainable.
That sounds pretty pessimistic but if we want mental and emotional wellbeing for Bradford's children then we need to pay a lot of mind to the mental and emotional wellbeing of Bradford's education workers.
'You can't pour from an empty cup'
, goes the saying. And it is true for this situation that we find ourselves in. Teachers who are striving for perfection and setting themselves unattainable goals are not going to experience good mental and emotional wellbeing. And, once we have more children back in (the word 'reopening' is incorrect – we have been open the whole time), teachers, co-teachers, leaders and other school staff are going to need to be emotionally strong and resilient so that the children have the chance of experiencing the same.
Yes, there are plenty of things we can do directly for the children: a Recovery Curriculum, as written about by Barry Carpenter (1), covers most of what school staff need to think about in terms of emotional wellbeing, and we must take care of all the logistics of keeping the school a safe place to be so as to curb the spread of virus (2). But in doing all of these things, the school staff who are responding to this unprecedented situation put their own mental health on the line.
This must be a key concern for school leaders, and for those who wish to be a supportive colleague regardless of their position. We are all in this together and everyone involved will need support. Headteachers will benefit from an appreciative word from a recently qualified teacher. Regular check-ins from a more experienced teacher will be essential for trainee teachers. Mentors and coaches will need to cast aside their regular agenda in order to focus on how their mentees and coaches are coping with the changes in policy and practice. A little encouraging message from colleagues will be a balm to the soul of members of SLT, working away in the background on the nitty gritty of wider opening.
My point is this: we can all help each other to weather this storm and as we help each other, we will be best placed to help the children. Kindness is essential at this time. Yes, kindness to ourselves – get your sleep, eat well (but don't forgo all treats), exercise, watch your favourite series, get outside, keep in touch with family – but kindness to each other, too.
Empathy will be key. Never suppose you know how someone is feeling – although we are experiencing the same pandemic, we are not all experiencing the pandemic in the same way. Take the time to find out how people have felt during all its different stages, and make sure you know where they're at presently. Don't assume to know based on your own experience. This goes for staff and for children.
Much of the time when we open schools to more children should be spent in this exploratory manner. With adults it might be more obvious, with children it could be more subtle. Make time for discussions which allow children to air their views – do this in different group sizes, or 1-to-1 if necessary. Allow your story reading to flow into conversations about how the characters' experiences mirror the children's own thoughts and feelings. Make time for collaborative activities (they can still be socially distanced if you want to go for that), team quizzes and games and other activities where children connect with one another mentally and emotionally. Whatever the activity, allow people the chance to share, and be sensitive to their needs as they do.
We can best support the mental and emotional wellbeing of Bradford's children on the reopening of schools by taking care of the members of staff who will be taking care of them and by knowing and taking into account of each individual's experience of the last couple of months. Empathy and kindness will be king upon wider opening – any school who attempts anything other than this will take a hit in the years to come, both in staff and pupil wellbeing.
______________________________________________________________________________
1. Carpenter, R: A Recovery Curriculum: Loss and life for our children and schools post pandemic (
https://www.ssatuk.co.uk/blog/a-recovery-curriculum-loss-and-life-for-our-children-and-schools-post-pandemic/
)
2. Gov.uk: Coronavirus (COVID-19): implementing protective measures in education and childcare settings (
https://www.gov.uk/government/publications/coronavirus-covid-19-implementing-protective-measures-in-education-and-childcare-settings
)